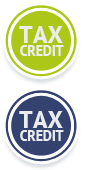 Thermodynamic
water heater
Reduce your expenses and protect the planet with your hot water: Clim Var Froid thermodynamic water heater
Water heater: the heat pump solution for your habitat
The installation of a thermodynamic water heater reconciles renewable energy and innovative efficiency.
The thermodynamic system operates from a mono bloc heat pump or dual block that absorbs the calories from the air to return them to the water tank for the supply of your heated water.
It uses free energy from the air to produce hot water
It helps to reduce the energy needs of the house
It contributes to the preservation of the planet's resources
Investing in a thermodynamic water heater for your sanitary hot water
The energy captured in the air is free, only the power supply to the thermodynamic water heater remains. You can divide your invoices by 2 or 3!
In addition, the thermodynamic water heater is a small investment in a house, returned quickly thanks to the tax credit and other bonuses.
Comfort

Enjoy a constant supply of hot water with a thermodynamic system

Energy savings

The consumed power is used to run the hot water heater and not to heat your hot water unlike a traditional water tank

Environment

The calories naturally present in the air are used to reheat your domestic water
Renewable
energy,
our engagement
Call an authorized specialist :
Free study
Material delivery
Professional installation
Maintenance and guarantee
Result guaranteed
Call on Clim Var Froid for your sanitary hot water installation
Clim Var froid offers you installation and maintenance of your thermodynamic water heater all around the Var.